APN
Air pump for system integration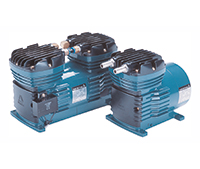 Features of APN
The suction side of these diaphragm air pumps can be used as a vacuum pump and discharge side can be used as compressor. By the compact and light construction the APN pumps cover a wide range of applications. Even the system integration in various devices such as gas analyzers, medical equipment, etc. is possible.
Draws in and sipplies clean air
Motor and the diaphragm of thge pump are directly connected and the ingress of oil, carbon and other contaminations into the system are avoided. The design is well suited for systems supplying clean air.
High efficiency and long life time
With a high performance motor, special diaphragm and reinforced connection rod in addition with a special design to prevent bearing wear, the vacuum operation, start up characteristics and durability of the pumps .
Wide variety
Nearly each model is available as single and twin head type. To select the best fitting pump for your application, FKM, EPDM, NBR or PTFE are selectable as diaphragm material.
Specifications (50 Hz)
| | |
| --- | --- |
| Max. capacity: | 6,000 l/h |
| Max. pressure: | 0.2 MPa |
| Main materials: | PPG / SUS304 / ADC12 |
| Input: | 4.8 to 200 W |
| Max. Vacuum: | 3.33 kPa (abs.) |
---