Magnetic Centrifugal Pumps - Plastic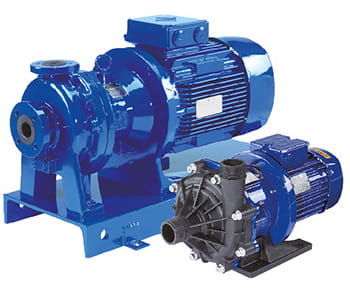 Magnetic drive centrifugal pumps in plastic design are especially predestined for the delivery of hazardous and toxic media. A split case made of plastics encapsulates the product room to be hermetically tight and to separate it from the environment and does not induce, contrary to the split case design of metal, any eddy currents because of its magnetic field which can reduce the efficiency of the pump, as well as cause heating up of the transported medium.
Functional principle of the magnetic drive:
The magnetic drive process pumps made by IWAKI feature a special design that allows their use also under unfavourable operating conditions. An exactly matched arrangement of the rare earth magnets with high magnetic power in combination with appropriately dimensioned compensating areas clearly reduces tarnishing of the contact surfaces of the impeller unit in the front and the rear pump area. With this, this pump is significantly more wear-resistant and usually, it is almost maintenance-free. Furthermore, this measure prevents damages or unwanted deformation on the wet plastic parts due to high frictional heat.
Due to the robust and low-wear design, the magnet-driven process pumps made by IWAKI can be found in nearly all industrial areas, including demanding applications in the chemical pharmaceutical industry.
Magnetic Centrifugal Pumps - Plastic Features
For more details, please choose one of your product.
| Series | | Max. capacity | Max. head (m) | kW |
| --- | --- | --- | --- | --- |
| MDW | | 300 m³/h | 98 | 11.0 - 75.0 |
| MDE | | 240 m³/h | 55 | 4.0 - 37.0 |
| MDM | | 84 m³/h | 74 | 1.5 - 15.0 |
| MDM NP | | 84 m³/h | 70 | 4.0 - 15.0 |
| MX | | 800 l/min | 35 | 0.15-2.2 |
| MXM | | 600 l/min | 30 | 1.5-4.0 |
| MX-F | | 510 l/min | 30 | 0.26-2.2 |
| SMX-F | | 440 l/min | 24 | 0.37-4.0 |
| SMX | | 440 l/min | 25.5 | 0.37-4.0 |
| MD | | 135 l/min | 14.3 | 0.022-0.365 |
| MD-F | | 125 l/min | 10.5 | 0.038-00.26 |
| MD-V | | 125 l/min | 10.5 | 0.22-0.365 |
| NRD/RD | | 70 l/min | 15 | 1-5 VDC |