LK
Compact and light weight metering pump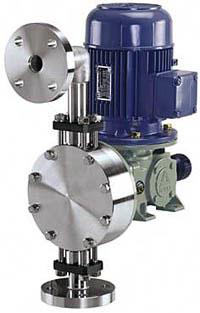 Features of LK
The specific feature of the LK series ist the dual-cam driving section with a highly reliable worm gear type speed reducer. Achieving maximum wear resistance in continous operation was a goal of the construction. The result is the employed compact and rigid mechanism. An outdoor installation is due to the fully enclosed oil bath lubrication possible.
Various Typs and material
Fitting for nearly any application a various number of pump sizes are available. Moreover six different material combinations can be choosed for the pump heads. So most applications can be covered. To select to best fitting connection, flange, hose and pipe connections are available as standard.
Wide performance range
The LK range enclose in total 17 pumps up to 45 l/min. Reliability is considerably enhanced through efforts to improve the linearity of the stroke / discharge ratio and ensures a safe and constant flow. The acurracy (stability) is within ± 2 %.
Easy maintenance
The simple pump construction as well as the limited quantity of parts guarantee easy maintenance and repair.
Specifications (50 Hz)
| | |
| --- | --- |
| Max. capacity: | 2,700 l/h |
| Max. pressure: | 1.5 Mpa (Stainless steel type) |
| Main materials: | PVC / SUS316 / PVDF |
| Input: | 0.25 to 1.5 kW |
| Temperature range: | 0 to 80°C |
---