IX-C/D
New generation of advanced metering pump technology!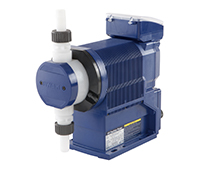 Features of IX-C/D
Highly precise control offers a solution for every chemical dosing application.
Iwaki's IX Series are digitally controlled direct-drive diaphragm pumps. Years of experience in high-end motor technology result in extremely accurate and energy efficient metering pumps with high resolution. The IX Series meet today's demand for automated chemical delivery in industries from water treatment to chemical process.
A wide turndown ratio
A control motor adjusts the discharge and suction speeds to meet a wide turndown ratio of 750:1 from 0.2 l/h to 300 l/h. (S6 type 150:1)
Energy savings and Eco-friendly
With the use of helical gears and spring assistance, power consumption is reduced by 70 % compared to the standard spring back design.
Safety design
Standard to all models is a diaphragm rupture detector, protecting users and the environment. Also, a detector for abnormal operation protects the pipework in case of an accidental high discharge pressure caused by clogging or improper operation. A foolproof valve design only allows assembly in the correct orientation and a drain hole also ensures safe operation even when the diaphragm is damaged.
Automatic control
The IX can run in analogue, pulse, batch or interval batch modes. At analogue operation the pump operates in response to an input, (4 to 20 mA) from a sensor. Pulse operation means, if combined with a flow meter or contact head water meter, the IX pump gives a paced dose rate in proportion to the main flow rate. Batch operation is possible with simple pump programming via the keypad and initiated by a pulse signal. In case of interval batch operation, timed operation is possible with simple pump programming via the keypad and is initiated with a pulse signal.
Specifications (50 Hz)
| | |
| --- | --- |
| Max. capacity: | 300 l/h |
| Max. pressure: | 10 bar |
| Main materials: | SUS316 / PVDF |
| Input: | 62 W |
| Temperature range: | 0 to 80°C |
---