MDG
Compact gear pump preventing leakage problems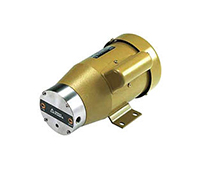 Features of MDG
Seal less construction, ideal for OEM applications
The pumps of the MDG series are small, leak free and seal less. Therefore they are best suited for the machinery installation. Due to the magnet drive system, it is not necessary for a complex change of the shaft sealing.
Best chemical resiatnce
All liquid end parts are manufactured of SUS316, PTFE, PPS and PEEK. These material combinations offer extremely high levels of corrosion resistance. Thus the transfer of many different agressive chemical solutions is assured.
High pressure gear rotary system
Characteristical for the MDG series is the ratio of high pressure and smal discharge capacities. Despite its small size pressures up to 0.6 MPa and vacuum of 5.3 kPa.
Excellent thermal resistance
There only the most heat resistant materials are used, operating problems due to thermal expansion are eliminated. Our standard MDG pumps are rated up to 95°C. For applications requiring higher operating temperatures, please do not hesitate to contact us.
Specifications (50 Hz)
| | |
| --- | --- |
| Max. capacity: | 840 l/h |
| Max. pressure: | 0.6 MPa |
| Main materials: | SUS316 / PPS |
| Input: | 10 to 150 W |
| Temperature range: | 0 to 95°C |
| Max. Vacuum: | 5.3 kPa (abs.) |
---