MDM
Mag. drive pumps with non contact system to resist dry running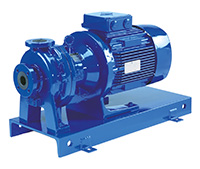 Features of MDM
Non contact system
With the non contact system the MDM features a unique mechanism, which gives a greatly improved performance against dry running. The high magnet force of the rare earth magnets prevents coming in contact of the contact surfaces in the front and rear areas of the pump. Therefore high temperatures are avoided. This greatly improves resistance against dry running in comparison with conventional mag. drive fluororein pumps. (only for CF type with high density carbon bearings)
ETFE & PFA are available as standard
Carbon fibre reinforced ETFE and PFA linings can be supplied to cover most applications. PFA being a natural unfilled material generates only few contaminations and makes it ideally suited for transfering of high purity chemicals.
Excellent durability
The fluororesin front casings are covered with a ductile iron casing, which add strenght and durability. Due to the highest sress under which the rear casing is placed, it is protected by a rear casing cover made of fibre reinforced plastic. Additionally to the higher stability, the eddy current loss caused by the rotating magnetic field is eliminated. Should it come in contact with the magnet capsule, no spark would be generated. Also the magnet capsule is fitted with a metal core to obtain a higher resistance against vibrations.
Back pullout system
In order to faciliate inspection and maintenance, this series employs the back pullout system. This enables one to conduct inspections internally and replace parts without dismantling the piping. The simple modular setup allows easiest maintenance and minimal shut-downs. Most od the service works can be done without leakage.
Specifications (50 Hz)
| | |
| --- | --- |
| Max. capacity: | 1,400 l/min |
| Max. head: | 74 m |
| Main materials: | CFRETFE/PFA |
| Input: | 1.5 to 15 kW |
| Temperature range: | -20 to 150°C |
---