SMX-F
Self-priming magnetic drive pumps Chemically resistant self-priming magnetic drive pumps which can tolerate abnormal operation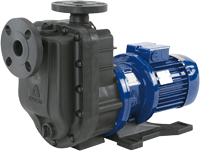 Features of SMX-F
Chemically resistant self-priming magnetic drive pumps which can tolerate abnormal operation
The SMX-F is a horizontal self-priming magnetic drive pump made from fluororesin. Our original self-radiation structure enhances resistance to dry running, cavitation, and closed-discharge operation.
Excellent corrosion resistance
The casings, impeller assembly and magnet capsule are made of fluororesin (CFRETFE). Other wet-end parts are made of highly corrosion resistant materials such as carbon, ceramic and the like. The pumps can handle almost type of chemicals including strong acid/alkali.
Expanded versatility
The SMX-F has a modular structure to handle liquids with high specific gravities. Use of standard motors extends the range of liquid application.
Easy maintenance
The pump wet end can be removed from the motor as a complete assembly without dismantling, thanks to an additional rear casing support. The pump wet end comprises the minimum number of parts for easy maintenance.
Rear casing support
The pump wet end is easily removed from the motor by removal of 4 mounting bolts on the motor bracket. The rear casing support performs easy maintenance and draining of any residual liquid at other place.
Enhanced durability under abnormal operation
Our original self-radiation structure (patented) efficiently disperses bearing friction heat to protect the pump under abnormal operating conditions. In addition, our non-contact structure prevents contact between rear thrust face and bearing, to eliminate heat buildup during dry running.
Fast self-priming
The SMX-F requires no external self-priming chambers or valves. The gas-liquid separation design ensures fast self-priming. An exceptional self-priming duration of up to 4 m in only 90 seconds is now possible.
Specifications (50 Hz)
| | |
| --- | --- |
| Max. capacity: | 440 l/min |
| Max. head: | 24.0 m |
| Max. priming hight: | 4 m |
| Main materials: | CFRETFE, High density carbon, High pirity alumina ceramic, SiC |
| Input: | 0.37 to 4.0 kW |
| Temperature range: | 0 to 80°C |
---