SMX
Self priming mag. drive pumps with enhanced durability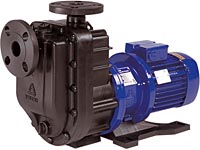 Features of SMX
Improved gas-liquid separation system
By the improved gas-liquid separation system an exceptional self-priming duration of 90 seconds for up to 4 m can be achieved. Additionally no valves are required for the repeated self-priming process.
Enhanced durability under abnormal operation
Our original self-radiation structure (patented) efficiently disperses bearing friction heat to protect the pump under abnormal operating conditions. Additionally our non-contact structure prevents contact between rear thrust face and bearing to eliminate heat build-up during dry running.
Chemical resistance
The metal free design ensures best corrosive resistance and durability. A wide range of chemicals can be handled by the use of GFRPP and CFRETFE as wet-end materials.
Easy maintenance
Thanks to the additional rear casing support, the pump wet-end can be removed from the motor as a complete assembly without dismantling. The pump wet-end comprises the minimum number of parts for easy maintenance.
Specifications (50 Hz)
| | |
| --- | --- |
| Max. capacity: | 440 l/min |
| Max. head: | 25.5 m |
| Max. priming hight: | 4 m |
| Main materials: | GFRPP, Alumina ceramic |
| Input: | 0.37 to 4.0 kW |
| Temperature range: | 0 to 80°C |
---