MDW
IWAKI's largest fluoroplastic magnetic drive pumps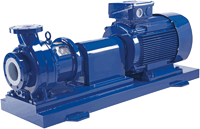 Features of MDW
The MDW series is IWAKI's largest class fluoroplastic magnetic drive pumps, offering high efficiency and durability for chemical process applications. Using larger motors for even higher output, the MDW series opens up performance potential in previously unexplored areas.
High discharge capacity, High head and high efficiency
The heavy-duty MDW is capable of a maximum discharge capacity of 300m3/h and max. discharge head of 98 m, enabling applications in previously unexplored areas with a wide range of liquid specific gravities.
Highly chemically resistant
Fluoroplastic and fine ceramic wetted parts offer high resistance to virtually every industrial chemical, irrespective of concentration.
Robust structure
Use of the high strength ductile cast iron external armour is mandatory for heavy duty chemical process applications. High casing pressure resistance is achieved with a unique rear casing design preventing stress concentration and incorporating a triple-layer structure (PAT). A special metal shaft is used on the MDW to withstand high radial forces and allow continuous extended operation even under harsh service conditions.
Back pullout system
The back pullout system allows easy maintenance and inspection without removing pipework. Integrated components and a sealed rear casing support structure enable motor removal safely without chemical leakage.
ISO compliant
The MDW is dimensionally compliant with the international standard (ISO2858, 3661) and is interchangeable with conventional sealed centrifugal pumps.
Specifications (50 Hz)
| | |
| --- | --- |
| Max. capacity: | 5,000 l/min |
| Max. head: | 98 m |
| Main materials: | GFRPP, CFRETFE, Aluminiumkeramik, SiC |
| Input: | 11.0 to 75.0 kW |
| Temperature range: | -10 to 120°C |
---