MX-F
Mag drive pumps for difficult operating conditions with high efficiency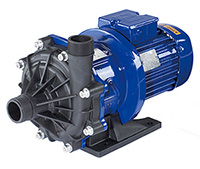 Features of MX-F
The MX-F series development was based on the concept of optimum reliability under severe operating conditions and features our unique self-radiation structure as well as our well-established non-contact system. The MX-F retains excellent durability under abnormal operation such as dry running, cavitation and closed-discharge operation. High-grade materials including ETFE are utilized as the main wetted materials. The MX-F is an excellent choice for reliably handling a wide range of chemicals in various manufacturing processes.
2-parts volute casing
The MX-F series is the first resin magnet pump which uses the pump casing divided into the front casing and the rear casing to form a vortex chamber as an ideal form. Therefore, the internal leak phenomenon, which means that the liquid getting out of the impeller returns to the pump casing and is suppressed to a minimum and the liquid is efficiently guided to the discharge port to enhance overall efficiency.
Self-radiating structure (int. patent pending)
Through heat-dispersion holes provided in the fixed portions of the impeller and the magnet capsule, the liquid around the spindle and the bearing is forced to circulate so that heat generated by sliding can be reduced effectively. Thus, thermal deformation and melt are prevented.
Specifications (50 Hz)
| | |
| --- | --- |
| Max. capacity: | 510 l/min |
| Max. head: | 30 m |
| Main materials: | GFRPP, PTFE, SIC, Alumina Ceramic, HD-Carbon |
| Input: | 0.26 to 2.20 kW |
| Temperature range: | 0 to 80°C |
---